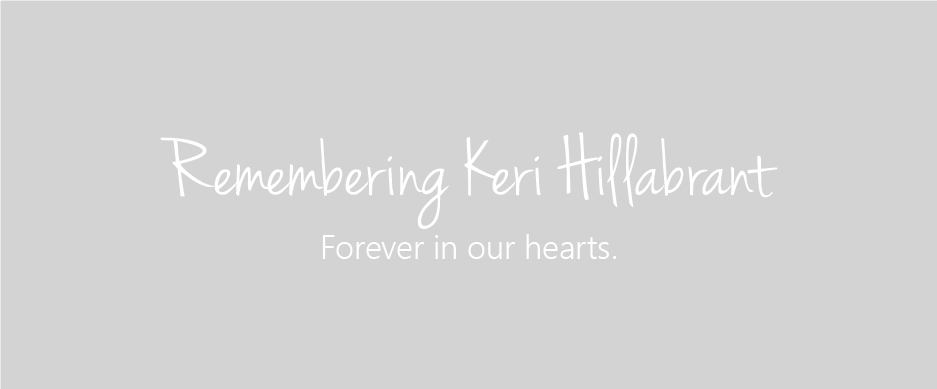 Memories
Keri will always be in our hearts.
Today I lost one of my beauTEALful sisters; Keri Ince Hillabrant. My heart is so broken. She has been such a beautiful friend to me and such a huge source of strength.
It's interesting how people come into our live's and our hearts connect and will be intertwined forever.
You fought with every last piece of your being. Much like how you lived your life. And through that, your wit, strength, and love never wavered. I knew this day would come, and I knew I'd be sad. Good bye old friend, until we meet again.
Today we lost a sweet friend. Keri Ince Hillabrant, your bright smile was shadowed only by your shining spirit. I don't cry often. Today I cried.
Many hours watching practice, sharing stories, treatment protocols, hopes and wishes for her future and the future of ovarian cancer research and most of all, hours of stories about Kedan. Thank you for sharing yourself with me, sweet Keri. I am better for having known you.
I never met you in person. We played games on Facebook together for many years. I have watched you fight and fight. I always looked forward to your pictures of your hair colors and your comments. Glad you no longer have fight. May God wrap his arms around your family at this time.
Keri is with the angels now.
My heart hurts, but I'm glad you are no longer in pain. You and your family have been in my thoughts and prayers and will continue to be. Peace and love.
Keri was and will always be my hero! She will forever be in our hearts and memories. I'm honored to call her a friend.
You were so much to me. You always made sure I was OK. Even when you weren't. You make me a better person. I can't bare to think I can never see you again. You were too amazing for something bad to happen to you. I look forward to my life knowing you will be in a place of no pain.
As I laid in bed last night reminiscing about the last 13 years that we shared together, I could only think about the fun times.
Miss you already, thanks for helping me be a cleaner human.
Keri will always be remembered as a most compassionate and loving person. We will miss her greatly.
Thank you for sharing your memories.
Keri will be forever in our hearts.